Adding today's latest technology to our perfect binding line.
Kingery Printing has installed an inline UV inkjet unit on our 24-pocket PUR perfect binder.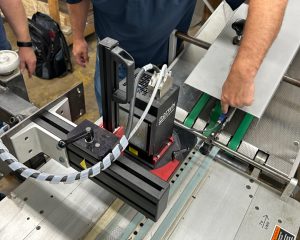 This new inkjet unit can imprint addresses, barcodes, QR codes, and any number of variable graphics on each individual catalog, magazine, or perfect-bound book project. This allows mass mailings to be imprinted and customized directly on either exterior cover page before going to the mail processing facility or being wrapped and packed for shipping. The high-resolution inkjet printhead is simultaneously flashed by a UV light, allowing for instantaneous curing of the ink used for the mailing panel.
Kingery Printing is utilizing PUR adhesives on both perfect binding lines to offer our customers the best possible perfect bound product. PUR provides more flexibility than standard EVA, when running coated and uncoated paper stocks. It captures stronger pull-tests, better resistance to extreme heat and cold environments, and PUR will provide excellent lay-flat capabilities.
We're excited to bring our customers more efficient production processes, better products, and greater capabilities to fit their ever-changing needs. Enhancing and increasing the Kingery Promise to bring you more!